The
Ultimate
in Fishing Tournament Software
Version 5.0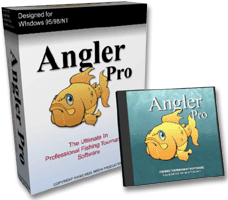 MINIMUM SYSTEM REQUIREMENTS:
1Ghz Intel Core or Equivalent
1GB of RAM
HD Graphics Display
500 MB Hard Drive
USB2 Port
Microsoft Windows 7
DirectX9
Windows Compatible Printer
Designed for a 1, 2 or 3 day Annual Tournament.
All the Angler Pro modules will run on 32bit and 64bit Microsoft Windows and have been tested to run under Microsoft Windows 7, 8, 10 & 11
Easy To Use Interface
Instant Reports/Results
Multiple Terminals
Photo ID's
Automatic Web Pages
Custom TV Displays
Fully Networked
Uses Local PostgreSQL Database Server
Your Data is 100% in Your Control
Support for ProTournament Scale H2/CS19 Series*
Support for ProTournament Epson Ticket Printer
Windows 7/8/10
*CS19 Series Scales require "WiFi Radio Hub" or "CS19 Legacy Module" from Pro Tournament Scales
Optional Windows Compatible 10/100 Network Cards for Operating Angler Pro on Multiple Workstations.
Optional VGA or HDMI out for Television Displays.
Optional Internet Connection for Interactive Web Display.
Angler Pro
Sports a simple and easy to use Interface where often used features are just a button click away.  All other options are grouped together in a very understandable fashion and accessible from the Main Menu Bar.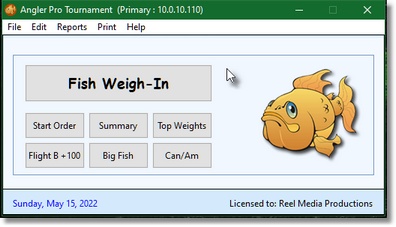 The Database
All relevant information pertaining to each Angler along with Photo ID, as well as information for Tournament Volunteers and Sponsors is stored in a PostgreSQL Database.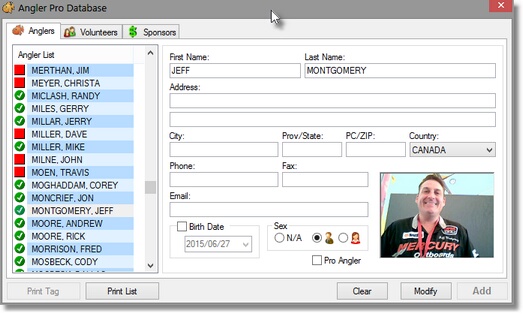 Register Teams
Teams can be created quickly by pairing up Anglers from the Angler Database.  Information about each Team is also stored and can be used throughout the Tournament.  Teams created and used in past Tournaments are also available, allowing running bios to be kept.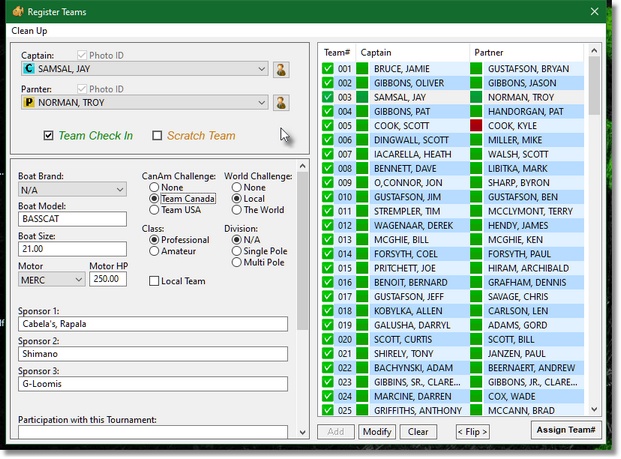 WeighIns
Keep track of Fish Caught, Fish Released, Total Weights, Penalties and Big Fish while also having the ability to Print Weigh Tickets and control Team Information on Television and MC Displays.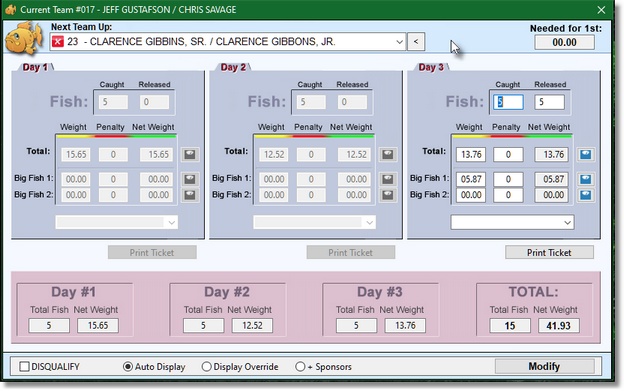 Custom Reports
Display and Print any of the numerous Reports available, many of which can be customized specifically for the Tournament you are running.

If there is a Report you think should be included, just contact us and we will see if it can be added in a future version of the software.
H2/CS19 Series Scales
AnglerPro supports the H2/CS19 Series Digital Scale and Epson Ticket Printer from 
ProTournament Scale
.
Weights are displayed directly on the Weigh In computer and entered into AnglerPro with the click of a button.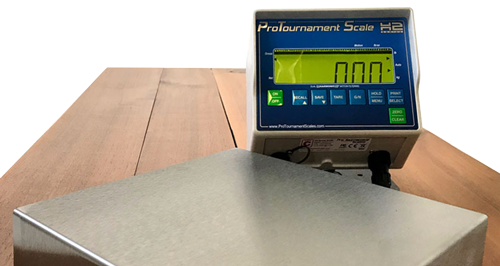 Complete Software Package
Main Tournament Module
Remote Module (Webpages/Stats)
TV Display Module
MC Display Module
Scale Reader Module for H2/CS19 Series Scale
USB Hardware Key
$795

.00
Purchase an additional USB Key for a 2nd Weigh-In Terminal or Replace a lost/stolen USB Key
$199

.00
$149

.00
Upgrade from Angler Pro v3.xx to Angler Pro Tournament v5.0 (Full Package)
Download Online - Instant Access
$199

.00
Exchange your old RS232 Printer Port Key for a USB Key
Send us your older style Printer Port key along with appropriate funds and we will exchange it for a new USB key which attaches to your USB Port.
$99

.00

* All Pricing in Canadian Funds